About ExpoElectronica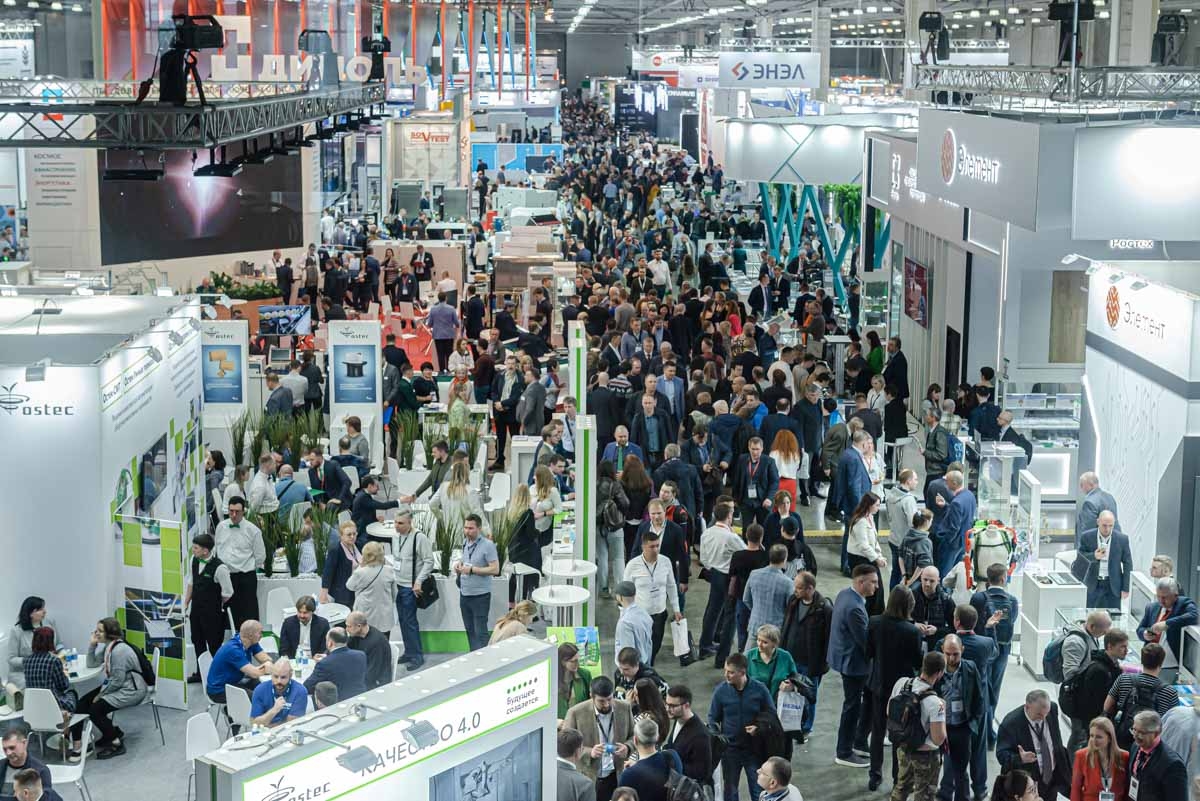 ExpoElectronica is the largest international exhibition of electronics in Russia and the EAEU in terms of the number of exhibitors and visitors, which represents the entire production chain from the manufacture of components to the development and assembly of final electronic systems.
For 25 years, ExpoElectronica has been supporting the development of Russian electronics, being a key business event in the industry. The exhibition brings together developers, manufacturers and distributors of electronics, end users, service organizations, integrators and other industry representatives interested in promoting and purchasing relevant products.
Key Benefits of ExpoElectronica:
The most visited exhibition of the electronics industry in Russia and the EAEU, confirmed by the official audit

Qualitative composition of exhibitors and visitors

Commercially successful project for exhibitors with a high return on investment

Wide representation of Russian developers and manufacturers

The best opportunities for the development of international and local cooperation

High level of official support with the participation of the Federal Authorities, industry Consortiums and Associations, leading industry media

Intense business and technical programme featuring opinion leaders and leading industry experts

ITE is the organiser of the largest industry exhibitions and business events in Russia, headquartered in Moscow, operating in the Russian market since 1991

Specially built rooms for business sessions and technical seminars

Comfortable meeting rooms for exhibitors
Exhibition exposition
In 2023, ExpoElectronica will unite under its brand 3 large sections and 25 subsections, which represent the entire chain of electronics production, which is especially important in the context of import substitution.
Electronic components, modules and accessories
Technologies, equipment and materials for the production of electronics
Embedded systems and turnkey solutions
The exposition is attended by Russian and international companies that demonstrate a wide range of industry innovations. Interested professionals can find at ExpoElectronica any product for their production - from components for product assembly to completely ready-to-use solutions.
ExpoElectronica 2023
More than 446 companies have already confirmed their participation in the 2023 exposition, among them:
Leading manufacturers and suppliers of electronic products: Element Group, Ruselectronics Holding, Golden Ball, Symmetron, Ru Electronics, OKB MEL, PT-Electronics, Center Vect, Imotek, Zelenograd Nanotechnology Center, SPC Elvis , DC "Soyuz", "VZPP-S", "Voskhod" KRLZ, "Imotek", "Microem", "Microem Technologies", Plants Atlant, "Elecon", "Electrodetal", "Kopir", "Magneton", Opton , Testpribor, PCB Expert, Terkon TTK, Microwave electronics, NM-Tech, JSC Digital Solutions and many others.
Leading distributors and manufacturers of process equipment: GK "Ostek", GK "Dipol", "Global Engineering", "Avantekh", SPBC "Elma", NPP "Esto", "LIV", "Planar Chelyabinsk", "Form", CJSC NTO, Mtech, Laminar systems, Tesart, Alyumika, STC Sirin, Radiomera, Dannie Electronics, and many others.
Also, national stands of foreign exhibitors will be organised, including a large-scale exposition of the countries of Southeast Asia.
The ExpoElectronica team is developing the architecture of the business programme, which will reflect current topics related to the search for new ways of development and solving current problems, professional discussions and exchange of experience based on real cases.
Exhibitors profile
ExpoElectronica is attended by organizations that are ready to invest in the development of their own business and industry, as well as in the promotion of innovative, high-tech products on the Russian and international markets, ready to transform their business in a rapidly changing environment.
Russian and international developers, manufacturers and distributors of electronic components, technologies, equipment and materials for the production of electronic products
design centers
developers of electronic modules, embedded and system software
contract developers and manufacturers
developers, manufacturers and suppliers of embedded and finished electronic systems and solutions
service organizations, service providers
Visitors profile
Russian manufacturers of electronic and electrical products
Consumers and customers of finished radio-electronic products for various industries and various configurations
Manufacturers of microelectronic products, electronic components, radio electronic products
Suppliers of components and accessories
Distributors of electronic components
Integrators
Contract manufacturers
Companies involved in testing and measurement, etc.
Official Support & Partners
ExpoElectronica focuses on developing cooperation with industry consortiums, consolidating the industry and expanding opportunities for meetings between exhibitors and representatives of federal and municipal authorities.
The exhibition is officially supported by: the State Duma Committee on Economic Policy, the Ministry of Digital Development, Telecommunications and Mass Media of the Russian Federation, the Collegium of the Military Industrial Commission of the Russian Federation, the State Duma of the Federal Assembly of the Russian Federation, the Ministry of Industry and Trade of Russia, the Government of Moscow and the Russian Union of Industrialists and Entrepreneurs.
Industry Associations - Partners of the exhibition: Consortium Basis, Consortium of Design Centers, Consortium of Computer Engineering, Consortium Medtechnika, Consortium of enterprises in the field of automotive electronic devices and telematics, Consortium of Robotics and Intelligent Control Systems, Consortium Passive Electronic Components, ASPEK and others.
Sponsors of the exhibition: every year the sponsors of the exhibition are various companies that have a strategy to stand out from the rest of the market, announce about their appearance on the market or new products. To do this, the organiser can offer a wide range of marketing services and promotion tools.
ExpoElectronica is also supported by over 25 industry media partners.
See you at ExpoElectronica 2024!