Overview of the Russian electronics industry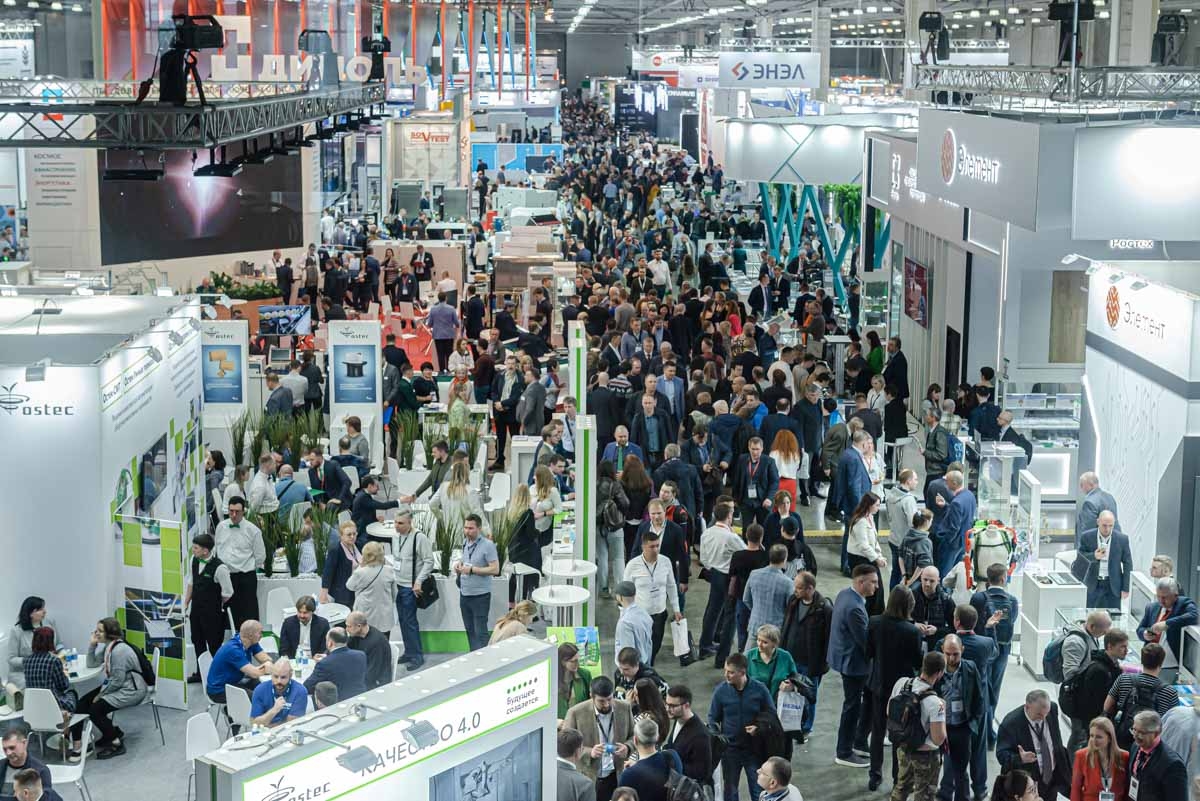 Market statistics, problems and prospects of Russian electronics
Electronics is an important part of Russia's overall industrial system
From medicine to space travel and aeronautics, many other sectors rely on production of electronic components and systems.
At the moment, however, there are a number of problems within this particular industry, which are currently under investigation by the government and key manufacturer associations. As Russia's largest exhibition for radio and microelectronics, ExpoElectronica, alongside the co-located ElectronTechExpo, also makes an important contribution toward the development of the industry.
Each year, the event gathers leading companies and industry experts to improve their sales, as well as discuss and deal with the important sectoral developments of the day. What follows is a brief overview of the electronics market in Russia.
The structure of Russia's electronics industry
Roughly 3,000 companies are actively involved in the Russian electronics sector, 500 of which are state-controlled and fulfil direct orders on government projects. The remaining 2,500 are private firms with a number of large, international manufacturers have local branches and factories.
Private companies operate primarily in civilian product markets. The private and public segments produce roughly the same level of components, systems, and other products, per year.
Of these companies, 36% account for production of purchased and custom components, 30% in development and marketing electronic devices, 18% in development and marketing modules, 8% in assembly and testing modules and equipment, 5% in completing production, and 3% in manufacturing cases.
Market statistics
According to the Electronics Developers and Manufacturers Association (EDMA), the annual sales of electronica equipment of domestically-built products comes to $15bn.
In foreign markets, Russian-made electronics sales come to about $1bn annually. Overall, the industry's gross income stands at $6bn. The industry employs approximately 360,000 people with a per-capita output equal to $24,000. Research from the Association of Production and Economics (ASPEC) reports that distribution and sales of electronic components through Russia has show steady growth over the past five years, but it has fallen to the levels last seen in Q4 2016.
This drop is due to limited demand for locally-made components, mainly due to a reduction in orders from the Russian military-industrial complex. Delays in financing and a lack of large-scale military projects explains the slowdown.
Market value for 2019 was estimated at $2.74bn – 5% lower than 2018's valuation of $2.89bn.
The most sought-after segment of the Russian market is electronics for military and aerospace engineer, with sales totalling $1bn. That's 39% of total sales. In second place is industrial electronics ($50m, 20%), followed by communications equipment ($230m, 10%), security systems ($215m, 9%), and lighting and display equipment ($200m, 8%).
Turnover for commercial equipment and medical electronics as sales of $100m (4% of overall market), whereas consumer electronics and automotive electronics occupy a 3% market share each, with both sectors generating $80m annually in sales.
The current state of the industry
At present, Russia's electronic market accounts for 0.4% of the worldwide market, according to the EDMA.
At such a small scale, Russian companies do not have the opportunity to provide a high level of guarantees, and comprehensive offerings, customers require. The dependence on basic foreign technologies is very high, which increases the risks associated with sanctions.
Maintaining competitiveness is also an issue. Public firms operate on a contractual basis, recieveing budget financing. This deprives them of incentives to increase their production's economic efficiency. On the other hand, private companies are forced to compete against multinational corporations, which does not allow them to develop due to high Russian demand for foreign-manufactured products.
Market outlook
To tackle the issues described above, the Russian Ministry of Industry and Trade has put forth a draft strategy to for the development of the Russian electronics sector until 2030. The strategy involves growth of domestic production by two and a half times during this time. It's also expected the value of the domestic civilian electronics sector will grow from 940m roubles ($15m) to 4.6bn roubles ($74m) during this time. Additionally, the share of domestic components in microelectronics should also increase from 20% to 80%.
As part of the strategy, a wide variety of institutions responsible for implementation and stimulation of cooperation within the industry will be created. This covers strategic alliances, joint ventures, design centres, and competency-sharing programmes.
The strategy will be implemented in several stages. The first will focus on tradition markets, such as telecommunications and navigation equipment, computer technology, and automation systems. Between 2021-2024, it will expand to include markets related to currently developing technologies: The Internet of Things, 5G, and smart energy. In 2025, the plan is to shift focus towards artificial intelligence, unmanned vehicles, and other progressive industry spheres. Forecasts for the industry development were first given in December 2017 by Gulnara Khasyanova, General Director of Mikron. According to her, the development of the Internet of Things will lead to increased demand for microprocessors, plus a variety of circuits and sensors that can add functionality to many household appliances. Other key factors in the development of industry will be the introduction of 5G, autopilot sysyems, data centres, and software-defined networks. The main driver will be Industry 4.0, which is based around the active use of digital technology.
ExpoElectronica and ElectronTechExpo are the industry's key annual events
Keep up to date with all the latest news from the Russian electronics industry with the co-located exhibitions, which take place every spring in Moscow, Russia at the Crocus Expo IEC.
As a key part of the Russian electronics industry, more than 300 companies, including distributors and manufacturers showcasing new products, come, meeting thousands of visitors. A further 150 foreign firms participate in the exhibition too.
Visitors to the event are representatives from industrial enterprises, trade organisations and scientific institutions.
By exhibiting, you can personally meet with thousands of potential customers, and win profitable new contracts.
The events work closely with industry bodies such as the Ministry of Industry and Trade's Department of Radioelectronics, Roselectronika holding, Central Research Institute of Electronics, EDMA, and Electron Agro amongst others.
It actively promotes industrial development, serving as a platform for meeting the important sector players, as well as supporting the activities of participating companies.
Key industry topics being discussed at the 2020 exhibition cover the most relevant technologies: 5G, the Internet of Things, and AI.
A series of business programme helmed by industry experts will present reports on the industry's current state, as well as forecasts for the future.
Find your participation options and exhibition opportunities today, and join the community of professionals creating the future of Russia's electronics industry.
ENQUIRE ABOUT PARTICIPATION