EXHIBITOR FEEDBACK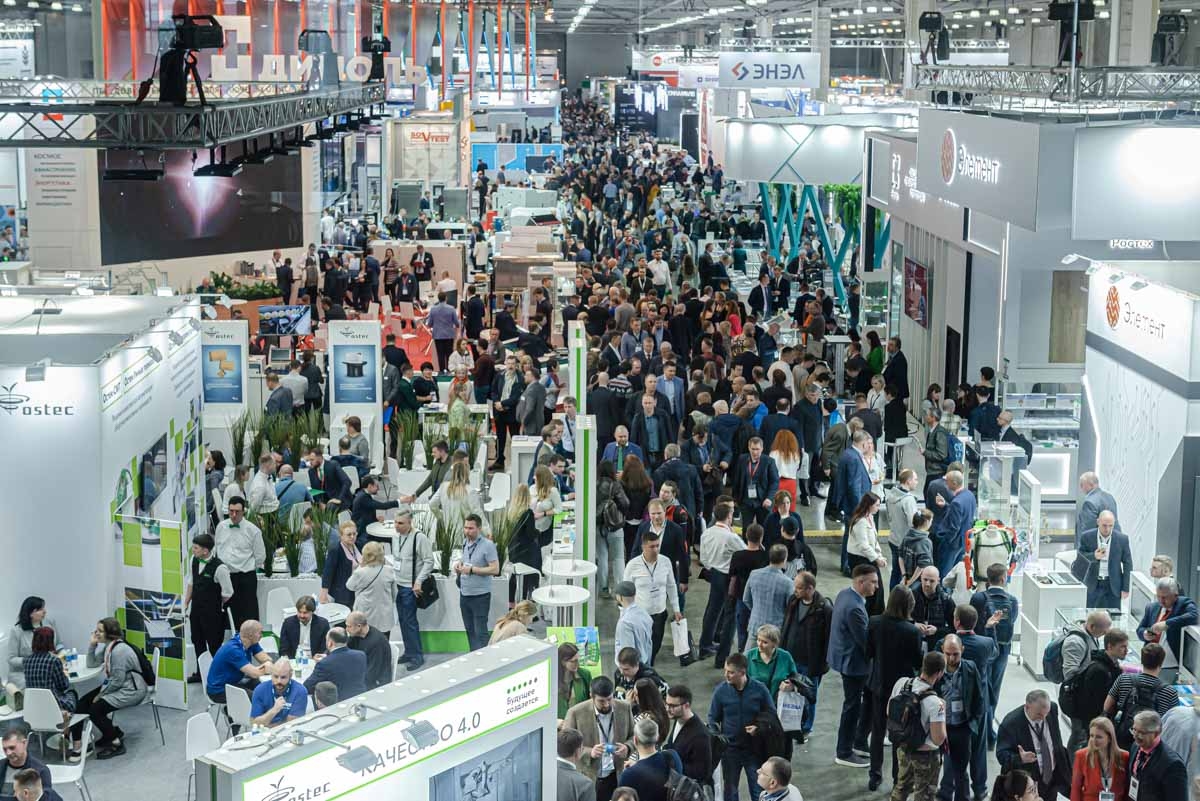 Exhibitors feedback 2021
Oksana Kukharchuk, Member of the Board, Element Group
We participate in ExpoElectronica every year, because for the industry it is the main exhibition where you can not only communicate and meet customers and partners with whom we are already working, but also within the framework of conferences, open discussions to talk about those tasks, challenges that are currently facing the industry. If we talk about the marketing strategy of Element Group of Companies, our main focus is on B2G for government orders and B2B corporate clients, and from the point of view of promoting our products, the exhibition is one of the key events, because all those partners, clients, customers who are considering new technological solutions are here. Therefore, within the framework of the marketing strategy of many enterprises in the industry, ExpoElectronica is the key event of the year. The exhibition met our expectations, because last year passed under the flag of a pandemic, mass events were canceled and, of course, we missed events where you can meet everyone in one place.
Sergey Belyakov, Head of Marketing Department, GS NANOTECH
The main goal at the exhibition is, of course, to acquaint visitors and exhibitors with our products, with the services that we offer. And of course we have commercial goals, this is the most effective exhibition in terms of subsequent sales. We are trying to attract a large number of our potential clients to our exhibition, to conduct some initial negotiations with them and in the future to get the concluded contracts from this. The first half of the day was quite active. We have a sales team and a rather serious marketing team has arrived. And in general, all the people were occupied.
Elyanora Avetisyan, Head of Trade Promotion, Ministry of High-Tech Industry of the Republic of Armenia
This year we are participating in as a pavilion. Here at ExpoElectronica 2021, 9 companies from the industry are represented from development, design to production. At each exhibition, these are meetings with old partners, and new meetings, new contacts, new opportunities. ExpoElectronica is an important part of high technology. Good luck to organiser, no covid, hope to meet next year.
Maxim Gurbashkov, General Director, Innodrive
We see a number of goals for the exhibition, getting leads, as it is now customary to say, and to put it simply, contacts with enterprises are not the only one, albeit a key one. In addition to meeting new companies, we attach great importance to collecting feedback on the state of the market and ongoing processes, on ongoing changes and dynamics, on how, for example, the same pandemic affects changes in industries. In addition, an important component on our part is to show that we and our partners are here on the market, even in a pandemic, we work and provide our customers with quality solutions in compliance with the terms and conditions. Based on the results of two days, we can say that there is a very large number of visitors and the quality of contacts is very high. 90% of the discussions, discussions that took place at the stand were about real projects, real developments, needs, and this is good, probably, the fact that people are tired of restrictions played a role. Very constructive, very interesting. ExpoElectronica for us is new people, new acquaintances, new projects, good old friends and partners, the opportunity to show ourselves and declare ourselves, the opportunity to offer our guests the latest technologies that are now presented not only in the Russian, but also in the international market, the opportunity exchange views, talk. Ultimately, no matter what market we work in, business is built between people, and personal communication is a very important component.
Olga Marina, Head of Marketing Department, ELVIS
We are constantly working and new clients are coming up, so we hope that there will be good results. We are also satisfied with the organization of the exhibition. And in general, the event is very modern, technological, with a large number of audience. It can be seen that over the past year people have missed live communication, so we hope to get a lot of new contacts.
Vladimir Semenov, Deputy Director, TECHNOTECH
We always go to this exhibition with great pleasure, because it is the most important for us. This exhibition allows us to meet all our beloved clients and show that we are afloat, show off new products and tell about our achievements, get acquainted with new strategic partners, which is important, and today such a meeting has already taken place and we hope that the next day we will have pretty productive. Accordingly, yes, we are satisfied with the exhibition. In general, we came with pleasure and will continue to come here. Today we had a meeting with several potential customers and some good agreements were reached. I think that ExpoElectronica is a very important exhibition for Russia!
Vasily Basov, CIS Distribution Manager, Infineon
For us, this is, first of all, a place where we meet with clients, where there is an opportunity to see our main clients in a short period of time, to meet, exchange views on the market situation, to understand what needs our clients have. The first results are that our clients really came, we met with them, there were a lot of new contacts, we feel some kind of revival of the business - this is the main result for us. The exhibition met our expectations and even exceeded them. We, I think, will continue our participation.
---
ExpoElectronica & ElectronTechExpo participants 2019 share their feedback
Pavel Strunin, head of Oscilloscope Team, Rohde & Schwarz RUS (ElectronTechExpo);
Sergey Chigirinskiy, Chief technical director, AKMicrotech (ElectronTechExpo);
Andrey Kucheryavyy, Chief executive director, Rezonit (ExpoElectronica);
Aleksandr Shemanov, technical director, Global Engineering (ElectronTechExpo);
Ludmila Ermakova, RFID & IT Sales Director, Mikron (ExpoElectronica);
Olga Zhulyaeva, Business development manager, Air Liquide (ElectronTechExpo);
Mikhail Kuzhelev, Director Sales & Service, Rehm Russia (ElectronTechExpo);
Mariya Timonina, Head of marketing, Testpribor (ExpoElectronica);
Aleksandra Kopotilova, sales manager ICAPE (ExpoElectronica).
Rezonit
"The exhibition provides an opportunity to communicate with existing customers, partners, competitors. This is a Russia's electronics club. Our main visitors are electronics manufacturers and developers, they are industry professionals. The exhibition hosts many industry events as well: seminars, round tables. The business programme increases the effect of participation in the exhibition, tightens the schedule".
Andrey Kucheryavyy
Chief executive director, Rezonit
---
Infineon
"We have taken part in ExpoElectronica for the first time. This exhibition is big enough, it is representative, with many new contacts. For us, the most important thing is to find new customers and demonstrate our presence in the market. Our visitors are mainly electronic equipment manufacturers, people who are looking for partners and technical solutions. The exhibition is a forum, a platform where you can very intensively communicate with the main market participants. I see a professional audience here. It is absolutely necessary to participate in the exhibition once or twice a year in order to be present on the market".
Vasily Basov
Sales Manager, Infineon
---
Mikron
"At the exhibition, the company shows its face. At the stand, you can immediately show almost the entire product line that you produce. We have scheduled many meetings with partners here. Yesterday we signed a partnership agreement with one major partner, with whom we plan to sell solutions to our customers. The exhibition is a very good format, and I think we will sign more than one cooperation agreement this year. The visitors of the exhibition are professionals in microelectronics, in components. Specialists have come from other cities. At the exhibition there are many foreigners, potential partners, interesting solutions, customers interested in our production ".
Ludmila Ermakova
RFID & IT Sales Director, Mikron
---
Feedback exhibitions 2018
A-Contract company
"This year there were capacity crowds at our stand - many more visitors than the previous years; practically there were no non-target visitors. The exhibition is very well organised. This year the level and quality of the stands have grown noteworthily - companies have significantly increased their participation in the exhibition, demonstrating their stability in the market. We also noticed many new companies, including contract manufacturers, who were not previously represented at the exhibition".
Olga Komarova
Head of marketing department, A-Contract
---
Elektrodetal company
"The exhibition is very well organised; we had many visitors at our stand - more than last year. For the first time our company took part in the exhibition 15 years ago, and since then we are happy to participate again and again in ExpoElectronica".
Yulia Potapova
Marketing Specialist, Elektrodetal
---
Mikron PJSC
"Our company has been participating in the exhibition for three years, and every year our stand becomes bigger and more beautiful - this is the main indicator that the exhibition has a good return. Visitors communicate with our technical engineers, and we got many contacts of potential customers. On the first day of the exhibition we held a seminar for visitors, which gathered more than 100 listeners. ExpoElectronica for us is the main industry exhibition in Russia".
Kira Otner
Marketing Specialist
Mikron PJSC
Abtronics company
---
"This year the Abtronics company moved to a new level, presenting a larger and original stand in comparison with the last year ExpoElectronica exhibition. 14 employees of our company attended the exhibition, who held about 100 meetings with partners and potential clients. For our company, this is undoubted success and the transition to the next stage of development, which will allow us to further increase our supply volumes and improve the quality of service. We express our gratitude to all our friends and guests who attended our stand. See you again next year"!
---
Proton-Electrotex company
"Recently our company took part in exhibition ExpoElectronica 2017 in Moscow. Rewarding, insightful, interesting and informative – this is the best description for those three days. Our booth was visited by heaps of people, and we've done our best to attend to each of them, to tell them about company, to show mid-power IGBT modules, bipolar thyristors and diodes, and to present our visitors with gifts to their liking. We are very proud and glad that everyone leaving our booth had a satisfied smile on their face. We are thankful to all participants who showed interested in our company and its products. From now on we will do our best to maintain a high level of tradeshow organization and to delight our customers with informative consultations and useful gifts."